While we're all getting used to connecting with colleagues and clients over video calls, business travel is slowly restarting. It's a difficult time for travel security managers. Governments are constantly changing restrictions and requirements. Companies are rethinking travel with the rapid adoption of remote working tools.
So what can travel security managers do to stay relevant and add value during these times? I believe there are 4 key areas managers should focus on: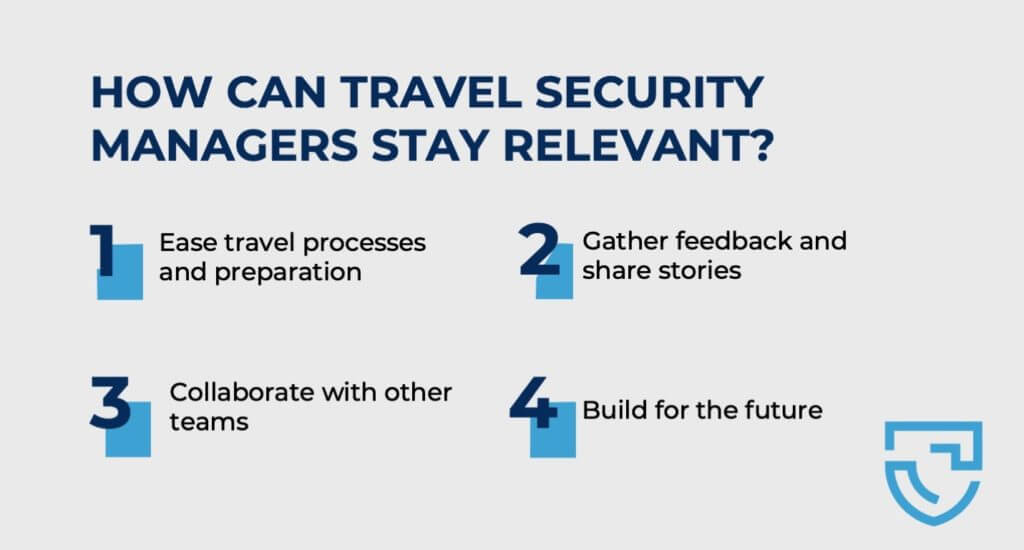 1. Ease travel processes and preparation as much as possible
Test your processes and content using a design thinking lens. How does it look from your travelers' perspective – are travel approval processes easy to find and understand? Do travelers have clear guidance on pre-trip considerations and research for their individual profile and itinerary? Help travelers by telling them exactly what aspects they have to consider and where to find information in a simple pre-travel checklist. This makes the process much easier, so employees are more likely to do it.
Ensure you manage this flow of information and new documentation. You want tools that help, not add to employees' burden. When we're faced with an overload of information, we take short cuts. This can lead to costly mishaps, especially during the current travel climate.
Use your existing tools to ensure important information is in travelers' hands when they need it, where they need it. Key information often hides under piles of irrelevant documents in company intranets. So, you need to make sure important material is front and center and accessible through many channels.
2. Gather feedback and share stories
An advantage of having fewer travelers is that you can often connect with them one-on-one and provide almost a personalized service. Take the time to prepare them for what travel will be like logistically and mentally and reach out afterwards to get their feedback.
This feedback can help you continuously improve processes and content. You'll build stronger relationships with employees who are currently travelling, and they may even become cheerleaders for your team.
Travel stories and experiences are also great communication opportunities. Build your internal brand by sharing employees' experiences on your internal social platforms - Yammer and the like - and sparking conversations throughout your company. This will go a long way to keeping you relevant during this low travel time.
3. Collaborate with other teams
Now is the time to look forward and adapt. Work closely with other departments to understand their needs, specific considerations, and changing circumstances. Are there any business-critical projects that you can help enable during these uncertain times? When do teams expect business travel to increase further - are they looking at specific time frames, or other triggers? Collaborating to develop or understand those triggers will be extremely helpful to all involved.
Set up travel data and risk exposure tracking so business leaders have visibility and can monitor the ongoing situation. Position your team as the place to get up-to-date information on local conditions and restrictions. As the travel security manager, it's your job to stay on top of changing travel restrictions. This information affects other business areas, such as production facilities or logistics. Use this data to help teams monitor local situations and respond to sudden changes.
4. Build for the future
In the short term, use this time to take a step back and review your overall travel risk management program. Every team has a list of things they'd like to do if only they had the time. That time could be now!
Review what's going on in the broader industry. Are you prepared for the new ISO 31030 standard, and have seen the latest drafts?
Are providers and solutions you have been leveraging over the past decade still right for you? There are many new travel management tools that offer advanced automation features. It's a good time to reconsider potential alternatives to best suit your new policies and priorities.
You should also be creating plans for when travel will resume over the medium and long term. In the medium term, I believe we can expect a transition period. A new vaccination or reliable treatment is likely to be available but won't be in widespread use for a while. During this period businesses will be relaxing their travel policies. Work with business leaders now to define the key trigger points for policy changes, and determine what those changes will be.
For the long term, start strategic planning for the next three to five years post-vaccine. Already many companies have announced that remote working will continue into the future. Some have found that new digital tools will mean less travel overall. So start planning now for the role travel will play in the future, and how the travel security function can add value and be a strategic partner.